Simply use your mobile device and the TV you already own to stream your favorite TV shows, movies, music, sports, games and more. Chromecast works with iPhone reg , iPad reg , Android phone and tablet, Mac reg and Windows reg laptop, and Chromebook. br ..
Built in magnetic strip provides sleep wake feature. Front cover transforms into multi angle landscape stand for 45 and 25 degree viewing and typing. Interior hand pocket to safely carry Kindle Fire HD 8.9". Elastic loop for pen or stylus. Nexus 10 slide..
Meet the Google Android Santa OS Ganndroid Plush! It's the 6-inch tall holiday addition to the Ganndroids line, and a limited edition of 250 pieces! Produced with soft "electric" style fabric, he is sure to please any fan! Size: 6-inches tall Characters: A..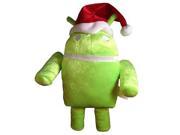 Experience Android on a large 3.5 inch screen, tap to pay with Google Wallet, and choose from hundreds of thousands of apps in Google Play. All that, combined with Unlimited Data Messaging, puts the Optimus Elite a cut above the common smartphone. br ..
Hewlett Packard T4m34ut#aba Chromebook Notebook
The laptop has Intel Celeron N2940 Quad-core 1.83 GHz processor with Intel HD graphics and 4 GB DDR3L SDRAM that gives lag free experience. The laptop has 32 GB SSD hard drive which makes all essential data and entertainment files handy. The T4M34UT has a ..
In addition to the DECT interface, there is a Wi-Fi / Bluetooth interface on the handset. This handset also has Google Play Support and is key detector compatible. The KX-PRXA10 is lightweight, compact and easy to carry. It has comfortable sized touch scre..
The GPS records time of departure, speeds traveled, time of arrival along with addresses, and duration of stops, storing every second of travel activity up to 100 hours in the non-volatile flash memory. The Tracking Key also features monitoring company veh..
The notebook has Intel Celeron N2940 Quad-core Processor with 4 GB DDR4 SDRAM. It has Intel Graphics for better graphics control and enhanced picture quality. The N8J80UA#ABA has Chrome operating system which enables faster file transfer and has Ethernet f..