"TomTom Universal USB Car Charger 9UUC.052.04 Brand New, Universal USB Car Charger, Compatible w/ Mini & Micro USB Mobile Devices, Fast Charging Time, Suitable For all GPS Devices, Small & Lightweight, Compatible With: Start Series Start 45 Start 45M Start..
The StarTech USBUPS06 6 feet Smart UPS Replacement USB Cable features 1 USB Type 'A' male connector and 1 10 Pin RJ45 male connector, allowing you to communicate from your computer, work station or server to your UPS power supply.
StarTech USB2ADC30CM White 30-pin Dock Connector to USB Cable Compatible Phone Manufacturer: Apple Adapter: 30-Pin Length: 11.8 in [300 mm] Specifications: Cable Shield Type: Aluminum-Mylar Foil with Braid Connector Plating: Nickel Cable Jacket Type:..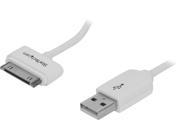 Expertly designed and constructed of only top quality materials.
This 10 feet DVI I Single Link Monitor Cable features two DVI I male connectors, allowing you to connect your PC or Mac computer to a digital projector, HDTV or CRT display without losing signal quality.The DVI I monitor cable is expertly designed to ensur..
Charge two tablets simultaneously using your car charge port and our high-powered charger
Charge two tablets simultaneously in your car
Uniden Unid-395 Crimper Tool
The ratcheting action makes crimping quick and easier. Convenient ratchet action Comfort grip handle works on all 400 series coaxial cable. UNI-395 Features: Product # UNI-395, U400 Crimper Tool, Ratcheting Action, Comfort Grip Handle, For Crimping U400, L..