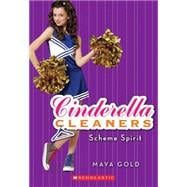 Due to a mixup at Cinderella Cleaners, Diana must return a cheerleader uniform to the stuck-up queen bee of Foreman Academy in time for the big homecoming game. But on a dare, Diana wears the uniform--and gets in some serious trouble.
---
Specifications
Scheme Spirit

available on September 29 2016 from ECampus for

4.47




Scheme Spirit

available on June 23 2016 from Buy for

6.17



ISBN bar code 9780545227681 ξ1 registered July 21 2013

ISBN bar code 9780545227681 ξ2 registered June 23 2016

Product category is Book
Diana's never been a fan of cheerleaders. After all, mean queen bee Kayleigh is one, and she's always snooty to Diana and her friends. Still, Diana has school spirit, and is bummed to be missing all the festivities for the town's Homecoming game while she's stuck working at the cleaners. But when Diana's co-worker Cat has to help a friend in need, Diana finds herself at the homecoming parade...and, against all odds, in a cheerleading costume borrowed from the cleaners! And to her surprise, Diana almost...enjoys her disguise! But can she pull off this top-secret pom-pom mission?
---
References