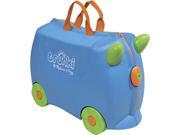 Melissa & Doug Trunki - Terrance (Blue)
---
Specifications
Melissa & Doug Trunki - Terrance (Blue)

available on February 08 2016 from Amazon for

39.99




Melissa & Doug Trunki Terrance Rolling Kids Luggage

available on April 22 2015 from Newegg for

31.99



UPC bar code 000772054003 ξ1 registered February 08 2016

UPC bar code 000772054003 ξ2 registered April 22 2015

Product category is Art Toy
Manufacturered by

Melissa & Doug




Model

5400




Model

9SIA03I05R2758



Product weight is

3.57

lbs.

Trunki allows children to ride their luggage through the airport or train station Lightweight, durable, carry-on sized suitcase serves as luggage, riding toy, and transport for kids on the go Features tow strap, carry handles, secure catches, integrated wheels and stabilizers to prevent toppling over At home, Trunki is a kid-friendly storage bin Holds up to 75 lbs. Melissa & Doug Trunki - Terrance
Trunki - Terrance (Blue) - Packed
Trunki - Terrance (Blue) - Riding Perfect for families on the go With straps to pull, horns to hold, and sturdy wheels to keep it all moving, Trunki motivates children to handle their own "stuff" while the family is on the go—and offers all the tools to do it. Trunki's large, wide-set wheels roll easily and resist tipping, so little travelers can tug along their travel gear by the sturdy pull-strap with ease. It's great for pit stops too: At the gate, on the platform, or anywhere the family stops, Trunki makes a sturdy seat—so little ones always have a place to rest, even when all the chairs are taken. The contoured sides make it a comfy way to ride, too: Tired travelers can take a seat on the comfy saddle and coast along while a grown-up pulls.Comfortable to pull and with a sturdy body that stands up to frequent travel, Trunki is a kids' suitcase that kids can truly manage on their own, bolstering self-esteem and self-sufficiency. Kids love to pack and pull Trunki, showing off their abilities and taking pride in their independence, and freeing up a hand for Mom or Dad in the process. Great for home storage Whimsical styling and child-friendly mechanisms make storing toys into a playful experience, encouraging children toward good organizational habits. Trunki is easy for kids to open, close, and roll, making it an attractive way to store toys, dolls, art supplies, and more. Children can roll their mobile storage unit from room to room as they gather toys at clean-up time or transport all their favorite things the next play spot. Prized possessions stay safe and sound inside thanks to rigid walls and interior storage straps with simple clasps, so children gain a sense of security that their possessions are protected. About Melissa & Doug Melissa & Doug toys are designed to fuel imagination, inspire exploration, and encourage the natural curiosity that leads to a lifetime of learning! From classic wooden toys to creative crafts for every age, Melissa & Doug's timeless products educate and enrich in a way that's as natural as playtime itself. Since their company's founding 25 years ago, Melissa and Doug have been committed to making exceptional children's products, with a focus on hands-on creative play and superior customer service. With their recognizable red-oval logo, Melissa and Doug put their names on every product they make—a symbol of their commitment to quality, attention to detail, and dedication to improving playtime for families around the world. Features The pack, pull & ride suitcase that keeps kids entertained and their favorite things contained. Fun to pack, with straps and latches that are easy and safe for little fingers, and plenty of space for clothes, toys or art supplies. Easy to move - wide-set, easy-roll wheels make Trunki for riding or pulling; contoured sides and horn handles make riders feel secure. Ready to personalize - add stickers, letters or Trunki Accessories to make Terrance a totally unique travel buddy! Great for developing confidence and imagination - kids love playing "travel" or storing toys in a special case that's all their own!
---
References
^

Melissa & Doug

Melissa & Doug Trunki - Terrance (Blue)

, Melissa & Doug.

Amazon

.

UPC 000772054003

(revised Feb 2016)