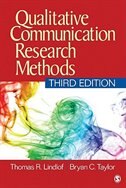 This book is the only guide dedicated to qualitative research methods in communication...
---
Specifications
Qualitative Communication Research Methods

available on October 16 2019 from Indigo for

77.95




Qualitative Communication Research Methods

available on September 21 2015 from ECampus for

73.13



ISBN bar code 9781412974738 ξ2 registered May 04 2015

ISBN bar code 9781412974738 ξ1 registered September 22 2015

ISBN bar code 9781412974738 ξ3 registered July 21 2013

Product category is Thomas tom R Lindlof Bryan C copeland Taylor Teaching Methods Communication Education and Teaching Reference and Language Teaching Language Arts Qualitative Communication Research Methods Book
While many volumes discuss qualitative methods, only Qualitative Communication Research Methods focuses on the history and diversity of their use within the communication discipline. This volume is written by, for, and about communication scholars. It introduces readers from any background to every step of the qualitative research process, from developing research topics and questions, all the way through writing a final report. In addition to covering the scope of theories and methods currently used in qualitative communication research, this book also discusses important trends influencing the future of that research. Key features in this new edition include: - A more clear and direct writing style, suitable for use in both undergraduate and graduate courses. - Numerous practical examples and exercises designed to reinforce student learning of concepts. - A critical guide to the contexts of qualitative research. More than ever, qualitative researchers operate in institutional contexts that present new dilemmas. The book brings readers up to date on related ethical, political, and practical issues, including: the influences of globalization on the design and conduct of research; the appropriate use of recording technology in conducting fieldwork; the unique challenges and opportunities related to studying multi-media, on-line environments; and ongoing innovation and controversy surrounding genres and formats of qualitative writing. - An integrated "suite" of chapters on data-producing methods. In addition to updated discussions of participant-observation and qualitative interviewing, this edition includes a new chapter on the study of material culture and documents. Together, these three chapters help readers to learn how fieldwork methods can successfully combine in a flexible, integrated fashion. - Cutting-edge technological developments. The book informs and advises readers about the latest developments in technology for qualitative communication research. This discussion focuses on how "new" media - such as e-mail, texting, cell phone video, and blogging - not only form topics of research, but also the means of recording, analyzing, and textually "representing" data.
---
References
^

Bryan C. Taylor

(2010

).

Qualitative Communication Research Methods

ISBN 9781412974738

(revised Sep 2015)