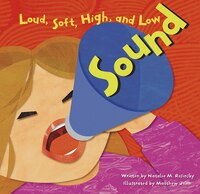 Engage young readers in real science with these informative, fun, fact-filled books.
---
Specifications
Sound

available on March 23 2017 from Indigo for

8.95




Sound: Loud, Soft, High, and Low (Amazing Science)

available on February 02 2015 from Amazon for

3.70



ISBN bar code 9781404803350 ξ1 registered March 23 2017

ISBN bar code 9781404803350 ξ2 registered August 13 2014

Product category is Book
Manufacturered by

Picture Window Books



Product weight is

0.27

lbs.

Sound is created through vibrations that vary in pitch and volume. This creates sound-waves that you can hear. Includes experiments.
---
References
^

Natalie M. Rosinsky

Sound: Loud, Soft, High, and Low (Amazing Science)

, Picture Window Books.

Amazon

.

ISBN 9781404803350

(revised Feb 2015)