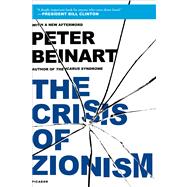 A deeply important book for anyone who cares about Israel.-President Bill Clinton A probing, courageous, and timely book..
---
Specifications
The Crisis Of Zionism

available on April 11 2017 from Indigo for

25.0




The Crisis of Zionism

available on January 25 2017 from ECampus for

11.95



ISBN bar code 9781250026736 ξ1 registered December 01 2016

ISBN bar code 9781250026736 ξ2 registered July 21 2013

Product category is Book
Beinart offers a forceful exposition of American apprehensions about Israel''s path.... Marks a significant evolution in the debate over Israel.-Jacob Heilbrunn, The Atlantic In Israel, the deepening occupation of the West Bank is putting Israeli democracy at risk. And in the United States, the refusal of major Jewish organizations to defend democracy in the Jewish state is alienating many young liberal Jews from Zionism itself. In The Crisis of Zionism, Peter Beinart lays out in chilling detail the looming danger to Israeli democracy and the American Jewish establishment''s refusal to confront it. And he renders a fascinating, groundbreaking portrait of the two leaders at the center of the crisis: Barack Obama and Benjamin Netanyahu. Beinart offers provocative proposals for how the relationship between American Jews and Israel must change, and an eloquent and moving appeal for American Jews to defend the dream of a democratic Jewish state before it is too late.
---
References