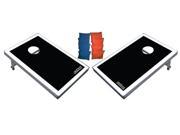 GoSports CornHole Bean Bag Toss Game Set - Superior Aluminum Frame
---
Specifications
GoSports CornHole Bean Bag Toss Game Set - Superior Aluminum Frame

available on June 05 2016 from Amazon for

89.99




CornHole Bean Bag Toss Game - Go Pong

available on August 02 2015 from Newegg for

99.99



UPC bar code 850298002336 ξ1 registered November 09 2014

UPC bar code 850298002336 ξ2 registered August 02 2015

Product category is CornHole Bean Bag Toss Game - Go Pong Software Game
Manufacturered by

Go Pong




Model

CH-01




Sku

#

9SIA03N0611376



Product weight is

0.2785

lbs.

Cornhole game set with 2 boards, 8 beanbags, and carrying case Ideal for tailgaters, backyard BBQs, campsites, and more High-strength aluminum boards with water resistant MDF surfaces Boards fold flat and fit in carrying case with convenient handles Double-lined beanbags won't tear or break; includes 4 red and 4 blue bags The GoSports Tailgate CornHole game was designed to provide for a superior CornHole experience by maximizing durability, portability and game quality. The 3' x 2' boards are our most popular size and are perfect for all ages and abilities. How are the GoSports CornHole games different? Aluminum Frame Construction: Very sturdy, yet lightweight – much better quality than steel, foam board or other mystery materials. Water Resistant MDF Board Surface: Provides the perfect amount of slide so you can pick your spots on the board without having the bags slide off. 8 All-Weather Duck Cloth Bags – these bags are the real deal - not the cheap sand filled bags other companies use that feel like bricks. Our set also includes a carrying case for easy portability/storage. Manufacturer's Note: We 100% stand behind our products, so if you have any quality issues, please contact us so we can fix the problem right away. Thank you for choosing GoSports. Turn any gathering into a party with the GoPong CornHole set. Equipped with two game boards, eight beanbags, and a carrying case, the CornHole set offers everything you need to play at tailgaters, backyard BBQs, and campsites.
The portable CornHole set is ideal for picnics, tailgaters, camping trips, and more.
Each GoPong board features a high-strength aluminum frame with a waterproof MDF surface designed to withstand frequent play and rough weather. Unlike competing boards--many of which are made of cheap foam board or laminate wood that warps and easily breaks--the GoPong boards are extremely durable yet lightweight, making them a breeze to carry from the car to the tailgater. The beanbags are also tough, with double-lined construction that will never tear or break. And when you're ready to hit the road, simply fold the boards flat and slide them into the carrying case, which includes convenient carrying handles for easy transport. The set comes with four red and four blue beanbags and weighs 25 pounds total.
---
References
^

(2011

).

GoSports CornHole Bean Bag Toss Game Set - Superior Aluminum Frame

, Go Pong.

Amazon

.

UPC 850298002336

(revised Jun 2016)