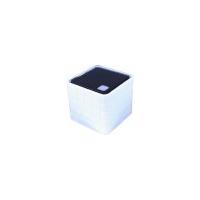 V7 Bluetooth Wireless Speaker |Built-in Mic |USB Rechargeable battery | speaker phone– for Bluetooth enabled smartphone, tablet, Apple devices – White
---
Specifications
V7 Bluetooth Wireless Speaker |Built-in Mic |USB Rechargeable battery | speaker phone– for Bluetooth enabled smartphone, tablet, Apple devices – White

available on April 20 2018 from Amazon for

33.89




V7 Sp5000 Speaker System - 2 W Rms - Wireless Speaker(s) - White - 100 Hz - 16 Khz - 33 Ft - Bluetooth - Usb Sp5000-bt-wht-9nc

available on November 21 2016 from TechForLess for

9.97




V7 Sp5000 Speakers

available on June 25 2016 from Newegg for

22.99



UPC bar code 662919069556 ξ2 registered April 20 2018

UPC bar code 662919069556 ξ3 registered November 21 2016

UPC bar code 662919069556 ξ4 registered June 22 2016

UPC bar code 662919069556 ξ1 registered September 06 2015

Product category is Multimedia Speakers Audio
Manufacturered by

V7




Model

SP5000-BT-WHT-9NC




Model

SP5000BTWHT9NC




Sku

#

SP5000-BT-WHT-9NC




Sku

#

N82E16836575005



Product color is

White



Product weight is

0.44

lbs.

Connects wirelessly through Bluetooth enabled capability of up to 33 feet. Portable, lightweight and compact. Built-in subwoofer for premium enhanced bass. Seamlessly stream and share your music, movies, videos and games Turn it into a speakerphone to make phone and conference calls from anywhere at anytime with the built-in microphone Enables easy pairing with any Bluetooth compatible device and control your audio and calls through the user-friendly playback controls. COMPATIBILITY: Apple iOS devices including iPhone 6, 6 Plus, 5S, 5C, 5, 4S, 4; iPad 4 with retina display, 3, 2, 1, Air, Air 2, Mini 2, Mini; iPod Shuffle, iPod Touch and other OSX products such as iMac, Macbook Pro, Macbook Air. Android OS Smartphones including Samsung Galaxy S5, S4, S3, Note 3, HTC, Google Nexus, Nokia, Motorola and tablets. PC Desktop Computers (PC compatibility may vary). Built-in USB rechargeable battery with up to 6 hours of continuous playback. High quality built-in microphone makes this perfect for hands-free operation and conference calls. Connects easily to wired devices through the 3.5 mm aux port. Line-in port with auxiliary cable allows playback from non-Bluetooth devices
Product Overview Now you can enjoy music anywhere you and your friends are, even when your budget is tight. Listen to the music you crave wherever the day or night takes you. The V7 wireless Bluetooth speaker will turn any locale into a club. It's a speaker phone too. Lightweight and Portable Cube-Shaped Design The rugged, weatherized rubber coating resists dust and moisture for all terrain use in nearly any environment. Use it at the park, beach, pool, camping, and more. Fits in the palm of your hand for carrying in a jacket pocket, purse, or backpack.
2 Watt Wireless Speaker You won't believe your ears when you unleash the sound from the 2 watt high-fidelity speaker. Small and compact, it gives your music a distortion free sound through a full range of frequencies.
33 Foot Range Through Bluetooth 2.0 Connection Your music flows effortlessly from up to 33 feet away from any wirelessly synced Bluetooth-enabled tablet, smartphone, laptop, or MP3 player. Now you can unleash your inner DJ with sound that fills your hotel room, loft, the bonfire, or the pool area. The remote control operation of your audio device lets you play, pause, or change tracks so you'll be in complete control of your music at all times.
Built-in Microphone for Hands-Free Calls It's a speaker and a speaker phone. The speaker gives you a big sound experience suitable for any impromptu dance party. Plus, HFP technology and built-in microphone enables hands-free phone conversations when connected to your Bluetooth-enabled phone. A simple touch of a button will automatically pause your music so you can answer your incoming call through the speaker.
Built-in USB Rechargeable Battery and Charging Cable This small and mighty sound cube has a built in rechargeable battery that lets you tote it anywhere without the hassle of carting around disposable batteries. Stream music for hours on a single charge. When out of power, charging is easy, simply connect the supplied micro-USB to USB cable to a USB port.
Stand It Up on the Side or Lay It Flat You have the freedom to set up your audio exactly the way you want it. The rubber non-slip skin will keep it securely in place.
Line-in Port with Auxiliary Cable If you don't have a Bluetooth-enabled device, you can still listen to your music by using the 3.5-millimeter auxiliary input and supplied audio cable to connect your speaker to MP3 players, phones, and a host of other devices.
---
References