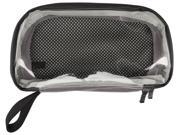 CLOSEOUTS . Timbuk2and#39;s Clear Flexito toiletry kit features a fog-proof clear window that allows airport security to easily view contents and allows you to avoid harassing unpacking in public. Available Colors: BLACK.
---
Specifications
Timbuk2 Clear Flexito Toiletry Kit - Large

available on September 01 2019 from SierraTradingPost for

19.95




Timbuk2 Black Clear Flexito Toiletry Kit Model 890-6-2001

available on March 20 2016 from Newegg for

30.0



UPC bar code 631364509610 ξ1 registered September 01 2019

UPC bar code 631364509610 ξ2 registered March 20 2016

Product category is Software Windows
The transparent, fog-proof window on this clamshell design lets you find what you're looking for, while the mesh divider maintains a strict separation of toothpaste and deodorant. Clamshell style clear flex pack with zippered closure. Fog proof clear window. Mesh divider keeps items separate and organized. Large grab strap for easy portability. Fine weave ballistic with the Timbuk2 color and durability you would expect. Imported.
---
References