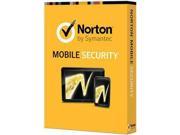 Protects your mobile device your privacy and your important stuff against loss theft viruses and other mobile threats.
---
Specifications
Symantec 21290180-esd Norton Mobile Security 2013 (electronic Software Download Version)

available on August 28 2018 from PCMall for

29.99




Norton Mobile Security 3.0 1u (android Base)

available on July 02 2016 from Newegg for

47.6




Norton Mobile Security 3.0 - 1 User (12 month subscription)

available on May 31 2014 from Amazon for

6.99



UPC bar code 037648337878 ξ1 registered February 20 2017

UPC bar code 037648337878 ξ2 registered July 02 2016

UPC bar code 037648337878 ξ3 registered January 16 2014

Product category is Electronic
Manufacturered by

Symantec




Model

21290180-ESD




Model

NV8103972




Model

21243168




Sku

#

9718969




Sku

#

9SIA36511U2017



Product weight is

0.1

lbs.

Multi-device Support: Now protects both Android and iOS smartphones and tablets. Web-based Management: Lets you easily control the security for your devices in one convenient place on the Web. Remote Locate: Pinpoints your lost or stolen phone or tablet on a map to help you find it fast. Scream Alarm: Sets off a scream alarm, so you can quickly find your missing mobile device. Now works with both AndroidTM smartphones and tablets. Sneak Peek: Uses the built-in webcam to take a photo of anyone using your device once you list it lost or stolen (webcam-enabled devices only). Smartphones and tablets give you the freedom to access the Web from anywhere. But, mobile devices can easily be misplaced, or worse, stolen—putting all your personal Stuff at risk. Just imagine your information falling into the wrong hands. A stranger could spam everyone in your address book with unwanted calls and texts, post to your Facebook and Twitter accounts, make online purchases, and even steal money from your bank accounts. In short, your entire identity could be stolen from you.That's why you need Norton Mobile Security—the powerful, Web-based service that lets you protect your smartphone and tablet with one convenient solution. Norton Mobile Security helps you recover your lost or stolen devices and prevent strangers from accessing the private Stuff on them. Norton Mobile Security protects your Android smartphones and tablets from theft, online threats and mobile spam. Lost or stolen device? Remotely lock and locate it. You can even erase your Stuff, if necessary, to ensure your private information stays that way. Norton Mobile Security also identifies dangerous websites and scans downloaded apps, app updates, and SD (Secure Digital) memory cards to protect against threats. It stops viruses that can infect your phone and drive up your bill without you even knowing it. Protect what matters most in your mobile world with Norton Mobile Security—powerfully effective and convenient security for smartphones and tablets.
---
References
^ Symantec 21290180-esd Norton Mobile Security 2013 (electronic Software Download Version)

, Symantec.

PCMall

.

UPC 037648337878

(revised Aug 2018)

^

(2012

).

Norton Mobile Security 3.0 - 1 User (12 month subscription)

, Symantec.

Amazon

.

UPC 037648337878

(revised May 2014)